Name: Babacar Diao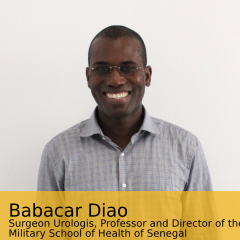 Position: Surgeon Urologist who operates in the Military Hospital of Ouakam, in the Aristide Le Dantec University Hospital Center and in the Medical-Social Center for Retirees in the private sector. Professor of Urology-Andrology at the Cheikh Anta Diop University of Dakar (Senegal). Director of the Military School of Health of Senegal.
Tasks: Technical Responsible of the Telemedicine African Center in the Hospital Center of Fann (Senegal)
Studies: After obtaining the series of baccalaureate C (Mathematics and physics-chemistry) in July 1991, Professor Diao was part of the Military School of Health that same year. After validating four medical records, in 1996, he was admitted to be an intern at the hospitals in Dakar. He obtained the Diploma of Specialized Studies in Urology in July 2001. In that year, he was hired as an assistant of the Faculty of Medicine of Dakar. He had complementary training as an assistant associate at the Faculty of Medicine of Paris 12 from 2008 until the end of 2009. Back in Senegal, he was received at the 15th Aggregation Competition in Medicine organized by the African and Malagasy Council for Higher Education (CAMES). In July 2014, he obtained the degree of Associate Professor of CAMES (last university degree in CAMES).
Bio: In the Army, he is Lieutenant Colonel and joined the promotion board to become a Colonel in 2018. Previously, he carried out several missions in the surgical antennas for the care of war wounded in the south of Senegal between 2000 and 2005. He directed the fifth contingent of the level 2 hospital in Senegal deployed in Harper (Liberia) from November 2006 to February 2007, as part of United Nations peacekeeping missions. He was Deputy Director of the Military School of Health for 3 years before being appointed Director in 2014. As part of the medical practice, he has an uro-oncology option and is working more on prostate cancer.