The museum and Archaeological Park Cueva Pintada de Gáldar received the visit of about thirty professionals of the medicine and the engineering of the prestigious universities of Harvard in the United States, and of Canada, participants in the 30th NA-MIC Project Week 2019.
Thanks to the inestimable collaboration of the Cabildo of Gran Canaria, and the director of the Cueva Pintada Museum, Carmen Gloria Rodríguez Santana, who led this guided visit to the American professionals, they were able to contemplate the magnificent pieces and excavations Archaeological sites that compose the enclosure and that also allow you to know the life of the ancestors of the island closely, which is a real walk through the remains of the Aboriginal villages, their cave paintings and their recreations of life in the ancient towns of Gran Canaria.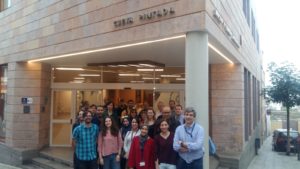 In the words of Professor Juan Ruiz Alzola, the visit to the Cueva Pintada Museum of Gáldar has been a great opportunity to highlight the progress through the history of the populations in Gran Canaria and, in addition, has allowed to know firsthand the customs and life Of the Aborigines from a perspective not only historical, but also from the cultural and social level.  He also stressed that during the visit "the scientists were impressed to appreciate all the complexity of the pre-Hispanic Aboriginal world on the island and discovering aspects that were completely unknown."