The medical and Audiovisual Technology Group of the University Institute of Biomedical and Sanitary research-IUIBS moves to Tenerife to participate from tomorrow, Wednesday 14 November, in the Miniferias of science and innovation, the Star event Of the weeks of science and innovation in the Canary Islands promoted by the Ministry of Economy, Industry, commerce and knowledge of the Canary Islands Government through the Canarian Agency for Research, Innovation and information society.
We'll be in the ' science ' area-Stand 4.
Our stand will present the four differentiated areas of interest that coincide with the different lines of research developed by the team:
3d printing
Virtual reality applied to anatomy
Anatomical puzzles with mixed reality.
Laparoscopy Simulator
Dates: 14, 15 and 16 November 2018
Place: Parque García Sanabria. Santa Cruz de Tenerife
Timetable: Wednesdays and Thursdays from 9:00 to 13:30h. And from 17:00 to 20:00h. Friday from 9:00 to 14:00h.
-Mornings: Students from 5th grade, ESO, bachelor and training cycles. (Visits arranged. Registration closed)
-Evenings: All public. (No reservation or registration is required for activities in this schedule).
In the following map you will find our location, inside Parque García Sanabria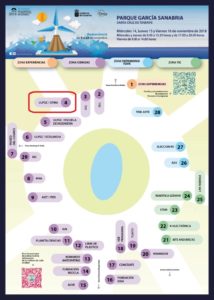 Information Miniworkshop de Tenerife: Https://www.cienciacanaria.es/…/miniferi…/miniferia-tenerife