The team of the medical and Audiovisual Technology Group of the University Institute of Research in Biomedical and Sanitary Sciences (IUIBS) – University of Las Palmas of Gran Canaria (ULPGC) inaugurated, in IES Alonso Quesada of Gran Canaria, the scientific Christmas 2018.
A total of 17 students from ESO and Bachillerato participated in the 2d and 3d visualization workshops in medicine in which they were able to learn about the different ways of viewing such as Virtual reality glasses, participated in a brainstorming to propose New uses, both in medicine and in other fields and to finish, as authentic surgeons, had the opportunity to handle a laparoscopy forceps, guided the image represented on the computer screen.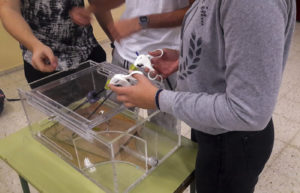 These informative activities are framed within the program ' Christmas Science in the Canary Islands 2018 ', promoted by the Ministry of Economy, Industry, commerce and knowledge of the Government of the Canary Islands through the Canary Island Research Agency, Innovation and Information Society (ACIISI). They will be extended throughout the month of December, in coordination with research centres, museums, universities and scientific societies, as well as organizations linked to the dissemination of science, technology and innovation.