The scientific Christmas 2018 begins and the medical and Audiovisual Technology Group of the IUIBS of the University of Las Palmas of Gran Canaria (ULPGC) disseminates science, technology and innovation in the education centers of Gran Canaria and Tenerife.
The Alonso Quesada Institute of Secondary Education of the capital Grancanaria will be the first center to receive our fellow Nayra Pumar and Xerach Suárez to show the medical applications of technology and software developed in the project MACbioIDi; In addition, they will make known the collaboration with the African countries and the lines of research in which the team works today.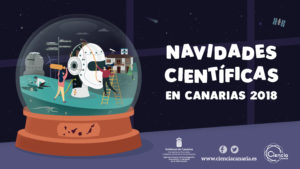 The aim of the scientific Christmas is to bring to the classrooms and bring to the population, the work done by the researchers in their laboratories. To this end, three different areas of interest will be presented that coincide with the various research lines developed by the team:
3d printing: After an introductory talk, different anatomical elements printed in 3d will be shown and the practical applications of the processes will be explained.
Virtual reality applied to anatomy: the different ways of visualization, including the virtual reality goggles, will be presented, and among all we'll have a brainstorm for new uses, both in medicine and in other fields.
Laparoscopy Simulator: As authentic surgeons, you will have the opportunity to handle a laparoscopic forceps, guided the image represented on the computer screen.
Venue:
Day 3 December: IES Alonso Quesada
Day 4 December: French Lyceum
Day 5 December: Atlantic School
Day 19 December: IES Pérez Galdós
Day 20 December: San Ignacio de Loyola
The Ministry of Economy, Industry, commerce and knowledge of the Government of the Canary Islands presents the third edition of the informative program Christmas Science in the Canary Islands, launched through the Canarian agency of Research, Innovation and Society of the Information (ACIISI), in coordination with research centers, museums, universities and scientific societies, as well as organizations linked to the dissemination of science, technology and innovation.
Scientific Christmas in the Canary Islands are designed for all audiences, children, adults and families to complete, will be free and will be developed throughout the month of December in different locations of the islands, from schools, Theatres, planetariums, research institutes, science museums, university laboratories or astronomical observatories. Also on the street, outdoors, under the supervision and support of public and private entities that participate with new ideas in the scientific and technological development of the Canary Islands, and in the generation and dissemination of knowledge.
The objective of this edition is to disseminate with practical activities the importance of science among young people and the general public throughout the Canary Islands, while enjoying the latest trends in technological culture under the slogan ' Do it Yourself '. Last year, scientific Christmas in the Canary Islands reached almost 38,000 people of all ages, who participated in about thirty activities related to the dissemination of innovation, science and technology included in the program.
More information on the portal through this link:
https://www.cienciacanaria.es/navidadescientificas/